CUSHIONED DECK
Treadmill designed to provide shock free cushioned running deck for running/walking
| | |
| --- | --- |
| Drive Motor | 1860 Watt/2.5 HP Continuous & 4.5 HP Peak |
| Running Belt | 51 Inch Long x 19 Inch Wide |
| Box Dimensions | 171 x 92 x 24 cm |
| Display Readouts | Time , Distance , Calories , Speed , Foot steps , Pre-set Program Profile , Heart rate |
| Cushioning | Most effective 25mm Spring back system installed between Running Deck & Running Belt + 7 Tier soft Running board |
| Installation | Zero installation required , Lever's provided for folding & unfolding the treadmill |
| Max Speed |  16 Km/ph ( Note some brands do publish higher false speed for their personal benefits beware of the misleading info) |
| Max user weight | 150 KG For Walking & 130 KG For Running ( Safety Factor of 20 kg is already reduced from the final written weight |
| Belt Type | 3 Ply belt with Advanced PVC Rubber , urethane & silicon |
| Frame | Built with Highly Durable Aluminium, Stainless steel + Alloy Frame. To make running experience more comfortable & steady |
| Workstation | Rotate console upto 60° or make it flat to place laptop & keep working while walking on the treadmill |
| | |
| --- | --- |
| Music System | Connect your phone with in built  Speakers to enjoy un interrupted entertainment |
| Easy to move | Just fold Smart Run & Lift from end of the treadmill to move it from place to place (in built Tyres helps in dragging it) |
| Touch Navigation Keys | Control your treadmill with touch panel buttons |
| Emergency stop | In case of emergency if the person falls down from the Treadmill . Treadmill will Automatically Stop to avoid injury |
| Workstation | Keep using Laptop , ipad or read your work by placing on flat console |
| Belt Adjuster | Keep Treadmill belt in central position by using belt adjustment screws . Follow user manual to know more |
| Heart Rate Sensors |  Place your hands on the hand bars to get the inside of heart rate |
| Splash Proof Display | Certified for IP65 Splash Proof test |
| USB | Upgrade software or charge your device |
| Manufactured by | Quantico Global India Pvt Ltd Add Sothupakkam road red hills Chennai 600052 |
| Warranty | Pan India onsite assistance 1 year for all parts & 5 Years for Motor |
| | |
| --- | --- |
| Drive Motor | 1860 Watt/2.5 HP Continuous & 4.5 HP Peak |
| Running Belt | 51 Inch Long x 19 Inch Wide |
| Box Dimensions | 171 x 92 x 24 cm |
| Display Readouts | Time , Distance , Calories , Speed , Foot steps , Pre-set Program Profile , Heart rate |
| Cushioning | Most effective 25mm Spring back system installed between Running Deck & Running Belt + 7 Tier soft Running board |
| Installation | Zero installation required , Lever's provided for folding & unfolding the treadmill |
| Max Speed |  16 Km/ph ( Note some brands do publish higher false speed for their personal benefits beware of the misleading info) |
| Max user weight | 150 KG For Walking & 130 KG For Running ( Safety Factor of 20 kg is already reduced from the final written weight |
| Belt Type | 3 Ply belt with Advanced PVC Rubber , urethane & silicon |
| Frame | Built with Highly Durable Aluminium, Stainless steel + Alloy Frame. To make running experience more comfortable & steady |
| Workstation | Rotate console upto 60° or make it flat to place laptop & keep working while walking on the treadmill |
| Music System | Connect your phone with in built  Speakers to enjoy un interrupted entertainment |
| Easy to move | Just fold Smart Run & Lift from end of the treadmill to move it from place to place (in built Tyres helps in dragging it) |
| Touch Navigation Keys | Control your treadmill with touch panel buttons |
| Emergency stop | In case of emergency if the person falls down from the Treadmill . Treadmill will Automatically Stop to avoid injury |
| Workstation | Keep using Laptop , ipad or read your work by placing on flat console |
| Belt Adjuster | Keep Treadmill belt in central position by using belt adjustment screws . Follow user manual to know more |
| Hear Rate Sensors |  Place your hands on the hand bars to get the inside of heart rate |
| Splash Proof Display | Certified for IP65 Splash Proof test |
| USB | Upgrade software or charge your device |
| Manufactured by | Quantico Global India Pvt Ltd Add Sothupakkam road red hills Chennai 600052 1800-121-1225 |
| Warranty | Pan India onsite assistance 1 year for all parts & 5 Years for Motor |
Easy to Move & Store
It's so easy to store and move. Unlike any other treadmill, you have ever seen.
IDEAL for home-usage. IDEAL for any place where there is a shortage of space. Simply, fold and forget.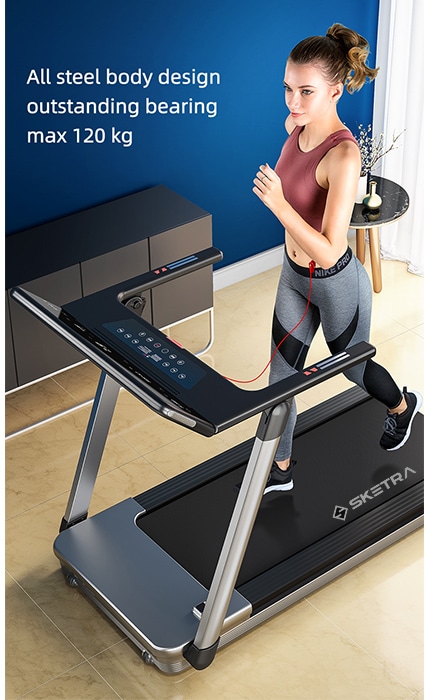 High Weight Bearing Capacity
130 KG for Running & 150 KG for walking.
It's the strongest treadmill in market. Ready to handle your weight.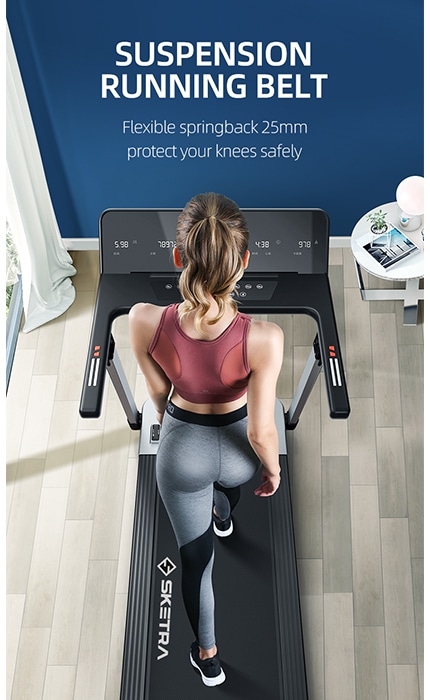 Impact Reduction
To ensure the safety of knees which every other company ignores completely redesigned the running belt. Our 25mm flexible spring back belt protects your knees from shocks, unlike any other running machine in the market.
Wide Running Area
48 cm wide running belt ensures an awesome and comfortable running experience. 
The 8 cm side rails ensure the best best comfort and running experience.
25 MM Springback Cushioning 
Let's talk about one often ignored point in running. Your weight puts a strain on your knees.
So, we designed the best 7 tier soft running board. It ensures the best-running experience without putting any pressure on your knees.
Sport Slice System
It's the most ADVANCED treadmill in the market. Zero motor sound combined with best in class control chips ensures a real smooth and pleasant working experience.
Long Working Capacity Motor
Smart Run can work continuously upto 6 hrs .
Continuous Motor Power 2.5 HP , Peak Power 4.5 HP