Running is the best form of exercise as it activates all the body muscles. Fitness is a good habit, and it should be everyone's priority. But it is not always possible to find an excellent spot to run. Moreover, the weather, construction, roads, and traffic don't allow you to move out all the time. In order to deal with this situation and still stay fit, we resort to buying treadmills.
Now when it comes to buying treadmills, we end up googling the top treadmill brands that can offer us the best running machines for home use. What else does one want than getting a suitable treadmill for home use from the comforts of home? Therefore, Sketra brings to you a collection of the best heavy-duty treadmills to get fit from home without needing to go outside.
Why Sketra?
Sketra stands influentially among the best treadmill brands for home use in India. Since 2012, it has been designing and manufacturing heavy-duty running machines for both commercial and home use. We, at Sketra, believe in serving the advanced fitness needs of the dynamic population at pocket-friendly prices. Keeping this very objective in mind, we have designed our range of exclusive treadmills. Every product stands substantial when it comes to fulfilling the high-performance needs of fitness enthusiasts.
Hop on to the following section to know about our best five treadmills for home use.
5 Best Treadmills Of Sketra For Home Use
It is hard to describe how treadmills have changed the fitness trends. A treadmill is undoubtedly the most popular exercise machine that is ever made. Sketra, being among the top brands of treadmill in India, provides superior quality treadmills that offer several advanced features. These treadmills are worth their price and are very easy to use. Let's dive deeper into the top 5 treadmills that Sketra offers for home use.
1. Sketra Home Run Treadmill
The home run treadmill by Sketra comes foremost among the best treadmills for home use. It comes with the following advanced features:
-> A 1.75 HP continuous and peak motor power that allows a maximum running speed of 12 km per hour.
-> A weight-bearing capacity of 100 kilograms for running and 120 kilograms for walking.
-> A 2-ply long-lasting belt, made of PVC Rubber on the top and polyester at the bottom. This belt is pretty wide, highly durable, and can withstand high temperatures easily.
-> 7-tier cushioned running deck that makes running comfortable and helps minimize its impact on the joints and bones.
-> Hydraulic folding makes it easy to fold and move.
-> Bluetooth speakers, to easily pair your smartphone and enjoy music while working out.
2. Sketra Smart Run Treadmill
The smart run treadmill by Sketra is another great running machine to work out at home. As the name suggests this treadmill is really a smart machine for fitness enthusiasts, due to the following features: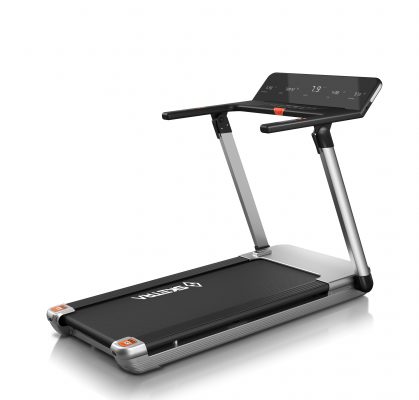 -> The foldable design and built-in wheels make it easy to fold, store and move.
-> A wide running deck which is 19 inches wide and 51 inches long makes the running even smoother.
-> This 7-tier soft cushioned deck prevents hurting the knees and bones of the runner.
-> It does not require any installation. Users just have to unfold it and use it right away.
3. Sketra Neo Run Treadmill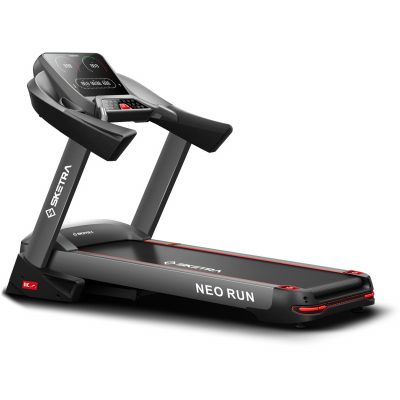 The Neo run treadmill comes with an innovative running platform that is master in adapting the way the user runs. Who doesn't want a fitness companion that adapts to your footprints? This is the reason why a number of users find this model so attractive and count Sketra among the top treadmill brands in the country. Besides, this running machine has the following to offer:
-> Wide running surface with a highly effective cushioned deck.
-> An on-board console to monitor performance. Calories, speed, distance covered, and heart rate can be easily monitored.
-> It protects your joints and knees during slow speeds and offers elasticity during sprint workouts.
-> The 7 HP peak motor power makes it ideal for both easy pace and high-intensity training.
-> The incline mode can rise up to 15 percent to cater to the hill training objective.
4. Sketra Pro Run Treadmill
The Pro run treadmill is ideal for running professionals and enthusiasts. This machine also comes with a surface that adapts to the running manner of the user. It protects the joints and knees at slow speeds and provides great elasticity during sprint workouts.
Its motor comes with an 8.5 HP peak power, which allows an inclination of 18 percent for hill training. The machine offers a large, wide, and smooth running surface and also lets users monitor their performance using the in-built console on-board.
5. Sketra Splash Run Treadmill
The splash run treadmill is an ideal all-in-one treadmill for all your family members. It supports a speed of up to 14.8 km per hour, which means another amazing alternative to work out at home and get fit. Also comes with easy folding-unfolding and moving abilities and offers the following advanced features:
-> It comes with 8 shock-absorbing cushions built-in in the large HDF running deck and 2 thick cushions under the wide running surface.
-> These cushions ensure a high weight-bearing capacity of 130 kilograms for running and 150 kilograms for walking.
-> A robust hydraulic cylinder, accompanied by a quick knob to allow a single user easily pick and drop the running deck of the treadmill.
-> A silent, 4.0 HP permanent magnet direct current motor that allows 15 percent inclination.
-> A versatile console featuring quick buttons to modify speed, incline modes, etc.
-> Tablet holders, 2 item baskets, and 2 Bluetooth speakers make the workout experience comfortable and enjoyable.
Which One Caught Your Attention?
The above treadmills are shortlisted to help you make up your mind and buy the best running machine for your home. Sketra is leading among the best treadmill brands for home use in India, be it for home or commercial use. Visit our website to check out premium quality electric treadmills, multi-station gyms, elliptical bikes, and more. Be it beginners, intermediates, professionals, or trainers, Sketra has a product for all. Get in touch with us for your inquiries today.