What should I consider when building a home gym?
1. Space Planning:
• Assess the available space in your home.
• Decide on the location for your home gym.
•        Also, Consider factors like lighting, ventilation, and flooring.
2. Budgeting:
• Determine your budget for the home gym.
• Prioritize essential equipment based on your fitness goals.
3. Essential Equipment:
• Cardio equipment (treadmill, stationary bike, cross trainer).
• Strength training equipment (dumbbells, kettlebells, resistance bands).
---
•        In the same fashion, Pulleys and Cables: Look for a system with adjustable pulleys and cables to allow for a variety of exercises.
•        Weight Stack: Furthermore, most multi-gyms have a weight stack that provides resistance for the exercises. Make sure the weight stack suit your fitness level.
•        Footprint: Just as, Consider the dimensions of the multi-gym to ensure and it fits comfortably in your designated space.
•        User Weight: Together with, ensure that the multi-gym can accommodate Straightaway, your body weight for exercises like leg press or chest press.
•        Weight Stack Capacity: Similarly, Occasionally, check the maximum weight capacity of the weight stack to ensure it meets your strength requirements.
•        Seat and Backrest Adjustment: Moreover Look for a multi-gym with adjustable seats and backrests to accommodate different body sizes and presently, exercise variations.
•        Pulley Height Adjustment: To clarify, the ability to adjust the pulley height allows again for a broader range of exercises too.
---

Start by choosing the location for your treadmill and Likewise, placing the deck on the floor. Bear in mind that you should leave some free space behind the deck of your treadmill. Although, this is a safety precaution that will help reduce injury in the event your trip In fact, or fall off the back of the machine.
There includes a wide, non-slip rubber running belt that absorbs shock, and besides a manually adjustable incline platform that may be modified to meet specific needs.
Generally speaking, Users can monitor their progress in terms of Obviously, speed, distance, time, and among calories burned with the multifunctional LCD display. However, With its foldable design.
• Foldability: Foldable & Compact
• Speed setting: 18.8Km/hour
• Weight Capacity: 150Kg
• Warranty: 5 years on Motor & Belt / Life time Frame Warranty
• Product Weight: 105Kg
• Customer Reviews: 4.5/5
• Easy to Install
• Compact, space saver
---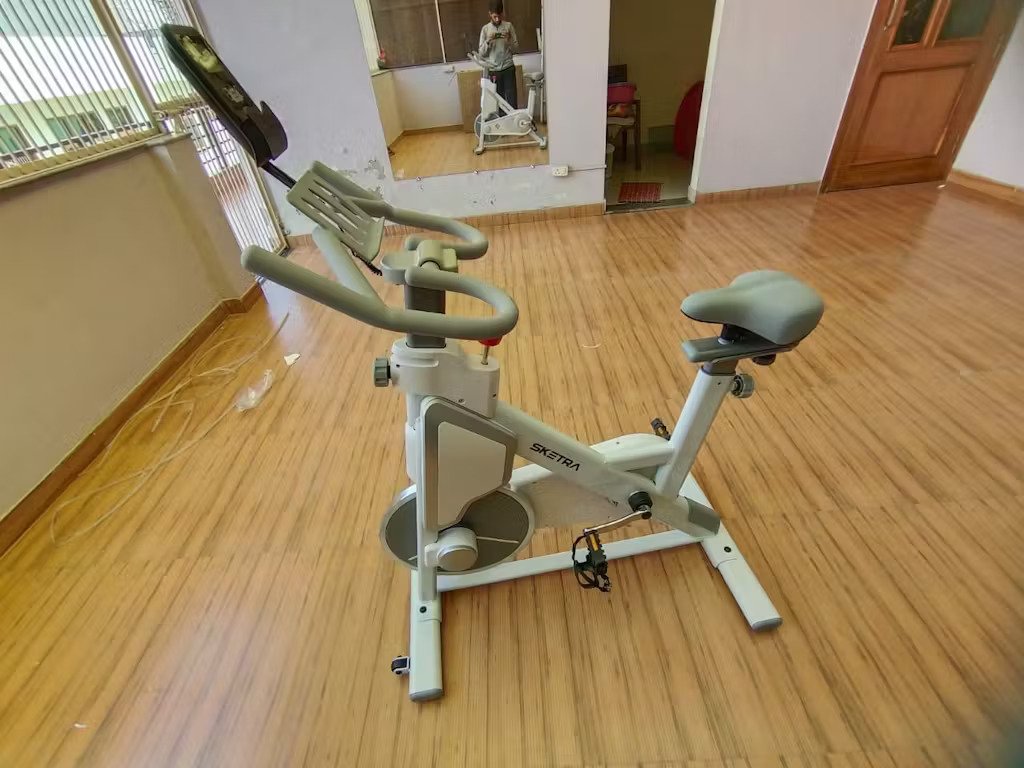 Meanwhile, the robust and long-lasting Sketra Home Spin Bike, which Including a 12 kg flywheel, is our most recent choice. Although this may be true, the heavyweight design offers speed, stability, and consistency for improved performance, and the flywheel maintains momentum for a comfortable ride. Finally, For a secure hold, the handle grip is composed of smooth foam.
Features:
• Superior rubber and polyurethane core wire
• LCD Monitor to display parameters
• Friction resistance knob
• Four-way adjustable cushioned seat
• Paddle straps for stability
---
Lastly, this spin trainer isn't like the others! You can easily track your progress and synchronize your workouts with Bluetooth connectivity. Regardless, Its ergonomic design guarantees a pleasant stride, and you can adjust the resistance levels to match your degree of fitness. What's more, You can say goodbye to excuses and Be that as it may, welcome to a healthy you by using this cross trainer!
Features:
16 KG Magnetic Aluminum Cast Flywheel
Preset programs, similarly for auto adjusting resistance level 
24 Level Magnetic Digital Resistance
Functions in both Forward & Reverse Motion
Magnetic Ring and Noise Reduction Cover
Up-to 150 KG weight-bearing capacity
Digital Exercise display
Multiple Armrest for more comfort
Foam grip handle with heart rate sensors
Large & Non-Slip Footpads
Mounted Wheels for Easy movability
Smart Device/ i-pad holder
---
In conclusion, at the present time, a healthy body and mind are essential to achieve complete wellbeing in the long run. Even though, If we are healthy, we can resist our bodies from being attacked by germs. In addition, From time to time this helps in becoming a healthier version of ourselves. Immediately, holistic growth can be achieved if we focus on all the aspects of our health.
"Today it hurts,
tomorrow it works!"